Ah yes! My favorite of any other things to post. Sure reviews are all good and awesome but covers ..this is what I live for! Haha.
With cover redesigns I haven't been a fan of them until recently because of the amount of them lately but that's only when the previous cover was much better than the new one and let me tell you. This is
not
the case with the new covers for the Secrets of the Eternal Rose trilogy.
Now.
I present to you ...
...the re-designed cover for Belladonna...
..are you ready?
Are you?
YOU SURE YOU CAN HANDLE THIS?
Ha! Not yet,
...the before cover for Belladonna: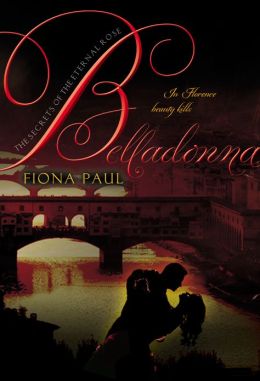 And . . .
AFTER!!
TA DAAAAAAAAAAAAAAAAAA!!
See? I told you! Even Fiona, herself, thought it's much better.
"
I know how you guys feel about cover changes and the original cover of Belladonna was pretty epic. However, I LOVE how this one really captures the essence of Florence with the Arno River and Ponte Vecchio in the background. Also, the Falco silhouette kind of reminds me of Pacey from Dawson's Creek and I always found him pretty adorbs. Finally, I love how we catch Cass in a rare moment of freedom with her hair hanging loose.
"
I 100% agree with her. Instead of just Cassandra's face, we still have the same vibe, same atmosphere, same beauty but with more symbolism. Cass's hair loose shows, as Fiona said, a rare moment of freedom but it shows Cass is changing. We see Renaissance Venice captured in a new light. Having already read Belladonna I can definitely vouch for the fact that Belladonna gives it's readers exactly what they can expect and much more.
P.S. I had to Google "Pacey from Dawson's Creek" and turns out it's this guy . . .
Yup, I can definitely see it with the hair thing.
If you haven't seen the Venom re-design or as a refresher . . . .
You can follow the lovely Fiona Paul on
Twitter
and add
Venom
and
Belladonna
to your Goodreads! If you haven't already read
Venom
, I highly suggest you do! Paperback is coming out soon plus the sequel,
Belladonna
, comes out July 16th!